invest

in THE
POWER OF FOOTSTEPS
Crowdfunding Closed and We Managed to Raise £1.86 Million. Thank You!
Crowdfunding Has Now Closed
If you would like to be alerted on our future fundraise, please get in touch using the investment amount you are interested in.

Please note for non-European investments, $5,000 is the minimum threshold.

We're on a

mission to transform cities with our pioneering kinetic technology

that converts footsteps into off-grid renewable electricity and data.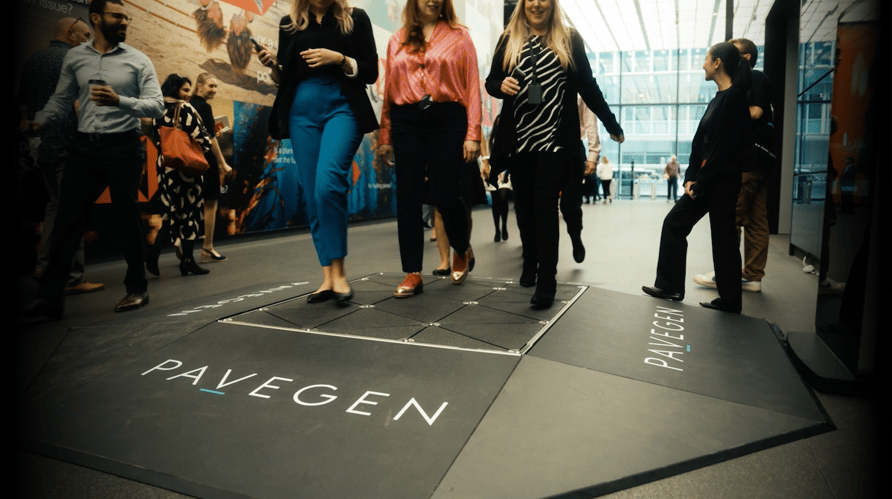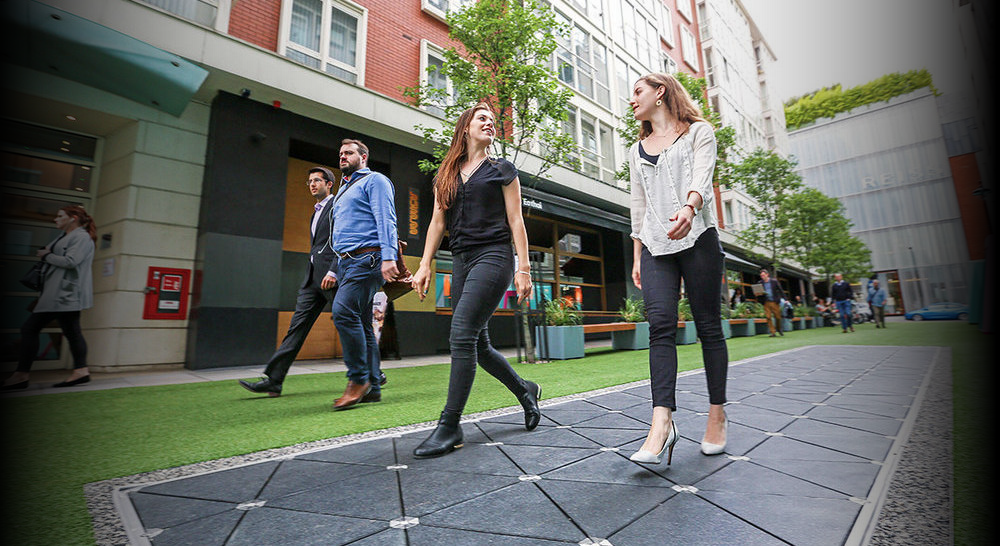 By harnessing the kinetic energy in urban environments, we're revolutionising how cities & institutions use new energy sources to connect with communities, helping create a cleaner planet.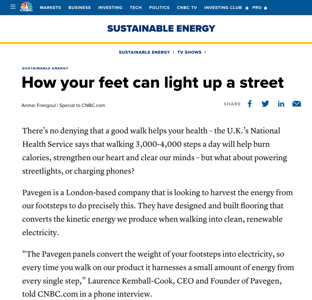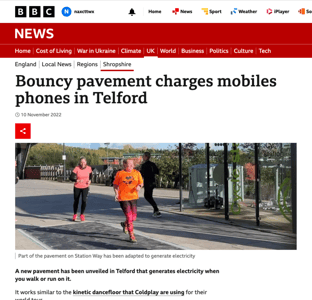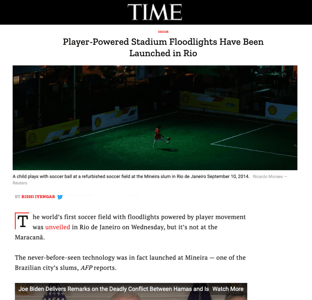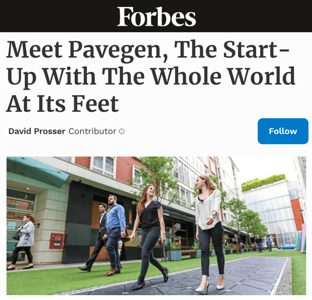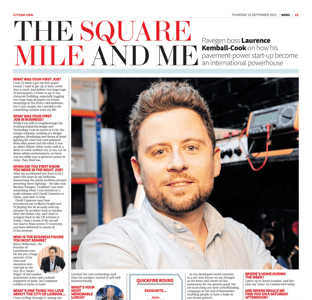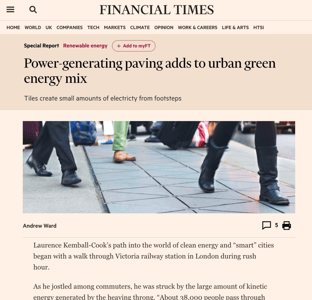 Stay up to date with our journey and subscribe to our newsletter
Frequently Asked Questions
What is Pavegen?
Pavegen is a people powered, kinetic tech floor tile that creates clean electricity and captivates the imagination of anyone that steps on it.
Where is Pavegen based?
HQ in London, R&D in Cambridge.
What does Pavegen want to do?
Our mission is to enable people to change the world for the better through the simple power of a footstep. Our patented technology connects people to sustainability and smart cities, creating powerful experiences which convert footsteps into off-grid energy, analytics and rewards.
We call this the internet of beings, making cities smarter with every step.
What's the vision?
Pavegen's vision is for smarter, more sustainable built environments which empower and connect people. From climate change to rapidly expanding cities, we face complex environmental and social challenges.
Our technology enables people to directly engage with clean energy, to increase their understanding of sustainability issues, and to connect purposefully with brands.
What can Pavegen power?
Pavegen's patented systems produce around 3 joules of energy per footstep or up to 5 watts of power while someone is walking, enough to power applications such as environmental sensors, LED lighting and screens and for storage in batteries.
What data can Pavegen capture?
Installations provide analytics on how much energy is being generated and when. With Low-Power Bluetooth beacons, Pavegen floors can also communicate with users' smartphones, providing rich customer analytics data via a permission-based rewards system.
Why are Pavegen tiles triangular?
The triangular design of the new V3 creates a continuously articulated surface with no dead zones allowing us to capture energy from almost every footstep.
How did Pavegen start?
Laurence Kemball-Cook, CEO founded Pavegen in 2009. The patented technology has received many awards from organisations including Climate Week, Skanska and The Europas.
Where has Pavegen recently been deployed?
Our latest projects include working with Transport for London and New West End Company to create the world's first smart street and partnering Google to create the world's largest energy and data harvesting array in Berlin. We've also just installed at the University of Birmingham, where students' footsteps help to power USB charging at nearby benches.
Outside of Europe, Pavegen tech recently deployed at Abu Dhabi Airport; a large Mexican transport hub; and powered an experiential campaign spanning West Coast USA with Bank of the West, the US division of BNP Paribas. In Asia, walkways have been recently installed at major smart city developments in Hong Kong and Thailand.
What is Pavegen's plan for the future?
Pavegen is increasing our presence in retail, smart cities and transport and the education markets. We have an exciting new digital platform which rewards people for their steps and which provides permission-based customer-analytics based upon how they use the benefits which can be applied to our target markets.
We are now working on increasing the data outputs of our walkways and also more efficient manufacturing methods.
Have Pavegen won any awards?
Recent awards include CityAM Top 10 Digital Innovators, 2018 UK PropTech Social Impact Award, 2018, Social Enterprise Entrepreneurship Award, 2017, SXSW 2017 Smart Cities Interactive Innovation Award Maserati Top 100, 2017, Top 50 Powerlist 2016 by Estates Gazette (#23)